Τsonis Theofanis | Technodomi
Aluminum Constructions Lamia
The company TSONIS THEOFANIS - TECHNODOMI is based in Lamia, Fthiotida and is active in the field of aluminum constructions. The scope of operations of our company includes a wide range of constructions.
We undertake all kinds of construction, from the simplest to the most complex, with the main aluminum material, whether for private or professional space, consistent with the delivery of the project.
The high quality of the materials we use is the result of research so that we can evolve over the years and offer innovative solutions with innovative design.
The experience, the know-how and the love for our work are what make us the first of our kind and always competitive.
The specialized staff offers and provides direct service from where we are requested in the prefecture of Fthiotida, Lamia, Viotia, Thebes, Livadia, Evrytania, Fokida, Amfissa and all over Greece.
Aluminum systems, doors, sliding windows

Aluminum construction

Aluminum cases

Railings - Aluminum railings, inox (traditional), in a variety of designs, anti-theft railings, folding

Iron and steel structures

Security doors

Safety Rolls

Windows, glazing, aluminum rolls, screens

Garage doors

Aluminum constructions and repairs

Special structures

Aluminium systems

Shelters, lofts, pergolas

Iron constructions, doors, fences, mechanisms, motorized automation
WE ARE CERTIFIED INSTALLERS OF ΑLUMIL

Οur prices are competitive!

With one phone call from you, we are at your place to give you our offer!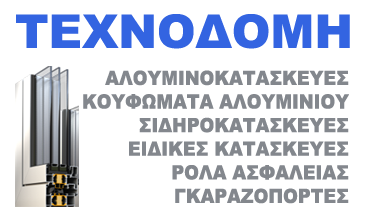 2, Stylidos str, Lamia 35100 |
2231021534, 6977406159